Harvest Park Music Boosters Donation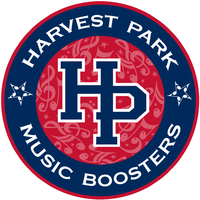 The Harvest Park Music Boosters is a non-profit 501(c)(3) organization formed to help our school's amazing Music Department! Our "Off-to-a-Great-Start Campaign" is to raise funds to cover the Music Department's expenses, which include:
purchasing sheet music and school instruments;
school instrument repairs;
guest clinicians; and
music festival fees and travel expenses.
Support Harvest Park Music by donating as a family $100 if your child is involved in 1 ensemble, $175 if your child/children are involved in 2 ensembles, and $200 if your child/children are involved in 3+ ensembles. Any donation will be greatly appreciated.


Multiply your contribution with a corporate matching grant! Contact HPMB Treasurer Jennifer Gable at
treasurer@hpmusic.org
with any questions. Thanks!
Su donación es deducible de impuestos en toda la extensión prevista por la ley. No se proporcionaron bienes o servicios a cambio de su contribución. HPMB es una organización sin fines de lucro 501 (c) (3) Identificación fiscal: 82-1545940